THE SMART, COST-EFFECTIVE CHOICE
Using our Guided Wave APHA/Platinum-Cobalt Color Analyzer System to automate this measurement within a process eliminates the visual judgment of a technician and delivers online real-time process control information to the process operators.
Our Guided Wave Saybolt Color Analyzer System is a complete solution,
"ready-to-go" analytical system:
Analyzer – ClearView® db filter photometer technology
Fiber optic cables
Sample interface – insertion probe or flow cell
Control software and Saybolt application calibration
Accurate, Real-time Reliable Results
The APHA/Platinum-Cobalt Color Analyzer System utilizes a Guided Wave multi-wavelength ClearView db filter photometer analyzer platform. It may be configured for either one (1) or two (2) independent sample monitoring points. The ClearView db analyzer is configured with application-appropriate wavelengths to measure the APHA/Platinum-Cobalt color of the sample. The analyzer employs a dual-beam design – meaning; the system has an continual internal optical reference check that allows it to self-compensate for signal variation due to non-sample conditions. This ultimately provides the system with long term stability. The final product is a total APHA/Platinum-Cobalt Color System that measures the color variation without interference from other factors.
The Smart Color Analyzer Choice
Complete APHA/Platinum-Cobalt (Hazen) Color Analyzer System:
Unique dual beam optics – for long term, stable operation
Up to two (2) independent measurement points –  for added analytical flexibility at reduced cost per point
High efficiency yet rugged fiber optics – analyzer electronics can be located away from a hazardous sample point
In-door touch screen or Ethernet (Modbus TCP) – easy local or remote analyzer operation and control
 Analytical calculations are all encoded in the software – answers and alarms are clearly reported
Our APHA/Platinum-Cobalt Analyzer System delivers accurate, real-time process measurement results. Its linearity and repeatability, as well as its low maintenance requirements make it a cost effective, smart choice to help optimize production, improve yields, ensure consistent product quality and enhance profitability. The Saybolt Analyzer System may be customized in variations. 
Specifications: APHA/Pt-Co (Hazen) Color Analyzer – Photometer
OUR GLOBAL SPECTROSCOPIC SOLUTIONS DELIVER: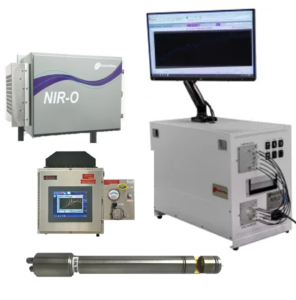 Improved reliability
Lower cost of ownership 
Improved product quality
Efficiency
Meet compliance requirements
Backed by global service and support
For a complete range of applications, system options, and service, please contact us.
SERVICE | SALES | TRAINING
Phone: +1.916.638.4944
Fax: +1.916.635.8458