Compatible with Hydrogen Peroxide Vapor (HPV) Analyzer
For hydrogen peroxide or other vapor applications, our Guided Wave 50 cm G-SST Vapor Probe provides an efficient, simple and easy interface between the vapor chamber, and our Hydrogen Peroxide Vapor (HPV) analyzers. The probe clamps into a standard 2-inch Tri-Clover® sanitary fitting and can be mounted in the vapor chamber, feed line, or return line. Alternatively, a flangeless version of the G-SST Vapor Probe is available for mounting inside the chamber, with a fiber feed through sanitary cap.  Since both source and return fibers are on the same end of the probe, and external to the process, there are no fiber cables to seal. The optical path is folded, providing 50cm of interaction with the gas in a compact 25cm probe body. This means more accuracy and stability for low vapor concentrations.
Primary Advantages New 50 cm Pathlength G-SST Over the Previous 25 cm, 28.3 cm and the Original 50 cm G-SST Probe
The double pass beam design (folded path) provides double of the beam interaction with the gases in the sterilizer chamber. This increases the achievable signal-to-noise making for a more accurate and stabile measurement. Since the absorbance of water and Hydrogen Peroxide vapor is very weak, this is a significant improvement in the measurement accuracy.
The optics are sealed behind a window which isolates the lenses from the sterilization chamber; thus the probe is no longer sensitive to index of refraction changes, This makes the measurements are more stable under widely varying conditions of deep vacuum to high concentrations of water and hydrogen peroxide vapor.
To allow the probe to be quickly serviced by a technician, the perforated cage around the beam path was to the open structure shown below. With the lenses behind an o-ring sealed window, there is no adhesive degradation increasing the service life of the probe.
In addition to these engineering improvements, the newly designed G-SST probe is a form, fit, and function replacement for the older style G-SST probes. This allows for nearly effortless upgrading for existing customers who purchase the new and improved style of G-SST. The G-SST vapor probe is available with either a tri-clover sanitary flange for mounting on a chamber access port or without a flange for placement within the chamber. By inserting the probe into the sterilizer through a 2" [50 mm] flanged port allows the fiber optic cables remain outside of the chamber and reduces measurement noise. Also, both the flanged and flangeless versions of the G-SST vapor probe can be 100% immersed in the sterilizer chamber with the addition of 2 small o-rings and a dual fiber feedthrough.
OUR GLOBAL SPECTROSCOPIC SOLUTIONS DELIVER: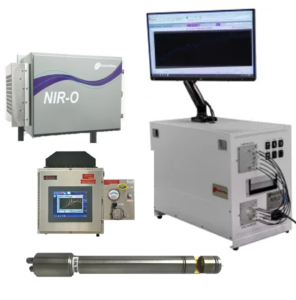 Improved reliability
Lower cost of ownership 
Improved product quality
Efficiency
Meet compliance requirements
Backed by global service and support
For a complete range of applications, system options, and service, please contact us.
SERVICE | SALES | TRAINING
Phone: +1.916.638.4944
Fax: +1.916.635.8458