SpectraRTS™ – Software for the operating engine of our process spectroscopy analyzers
SpectraQuant™ – Software for developing chemometric and quantitative models
SpectraQ™ – Software for data collection and validation in the laboratory
SpectraEVM™ – Software for reporting of environmental monitoring results
SpectraStudio™ – Software for laboratory data collection and analysis of spectra
SOFTWARE POWERING YOUR ANALYZER
SpectraRTS™ Software – part of our SpectraSuite™ – engineered exclusively for on-line monitoring, allowing use by engineers, maintenance personnel, and chemists.
A leading-edge Windows® based software utilized with analyzers for process monitoring, analysis and control. 
Delivers flexible set-up and control of your system, extensive diagnostics, easy-to-use scripting and robust DCS communications.
Easy access tabs display results and system diagnostics.
Color-coded status information with click access to detailed information.
Full integrated development environment for VB.Net™ compatible scripting language.
DCS communications status.
Display of statistical data with custom sizing and splitter windows.
Control I/O to switch valves and monitor a variety of sample system conditions.
Collect spectra and apply quantitative analysis routines.
Transmit product properties, instrument QC data, and alarms via versatile communications protocols.
Validate and diagnose your system.
SpectraQuant™ Software  – part of our SpectraSuite™ – is leading edge Windows® based chemometric software utilized on our ANALECT analyzers for generating predictions.  It consolidates today's most recognized features for modeling complex multi-component processes.
Incorporates proven benefits of constrained principal component regression with the tools available in the Eigenvector Research PLS Toolbox™ Suite.
Incorporates baseline constraints, pathlength constraints as well as spectral interference constraints.
Features robust and intuitive user interface that includes a flow chart for step-by-step guidance through the model development process.
Allows for multiple baseline corrections.
Allows for easy frequency selection.
Performs pathlength corrections.
SpectraQ™ Software – part of our SpectraSuite™ – enables the effective use of the ANALECT Diamond 20 for laboratory analysis and instrument validation.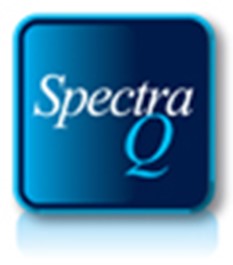 Collect calibration spectra and perform routine quantitative analysis on samples. It is unique in the fact that it's designed to integrate seamlessly with our SpectraSuite process spectroscopy software.