A Smart, Cost-Effective Turbidity (Haze) NTU Analyzer
The Guided Wave Turbidity Analyzer system is a complete, "ready-to-go" analytical system.
Analyzer – ClearView® db filter photometer technology
Fiber optic cables
Sample interface – insertion probe or flow cell
Control software and Saybolt application calibration
Accurate, Real-time Reliable Results
Complete Turbidity NTU Analyzer System
The Turbidity Analyzer System utilizes our Guided Wave multi-wavelength ClearView db filter photometer analyzer platform. It may be configured for either one (1) or two (2) independent sample monitoring points. Turbidity can be measured on one channel only, leaving the second channel available for any other measurements such as color.  The analyzer employs a dual-beam design – meaning; the system has a continual internal optical reference check that allows it to self-compensate for signal variation due to non-sample conditions. This ultimately provides the system with long-term stability. The final product is a total Turbidity Color System that measures the turbidity variation without interference from other factors.
Unique dual beam optics – for long term, stable operation
One turbidity channel plus up to two independent measurement points – for added analytical flexibility at reduced cost per point
High efficiency yet rugged fiber optics – analyzer electronics can be located away from a hazardous sample point
In-door touch screen or Ethernet (Modbus TCP) – easy local or remote analyzer operation and control
 Analytical calculations are all encoded in the software – answers and alarms are clearly reported
Options for a Custom Solution
Turbidity can be used to indicate solid breakthrough in a process. This can be used as an alarm and to invalidate other optical measurements until the problem can be corrected. The Guided Wave Turbidity Analyzer measures the level of suspended solids or non-miscible liquids in a solution via light scattering at 90 degrees. Turbidity values can be found in several different units depending on the application. Two common measurement standards are ASTM Method D4176 (HAZE), and EPA method 180.1 (NTU).
The ASTM method is a visual standard for measuring turbidity (caused by immiscible water in fuels) by viewing cards with black lines of various thicknesses through a 100mm diameter glass jar of solution. The result is a value (called Haze) between 1 and 6, with 1 being the clearest. Haze is typically measured in the refining sector and arises from water beyond the solubility limit. Alarming on this solubility issue allows the refiner to have better control of the fuel quality.
EPA 180.1 measures light scatter at 90 degrees in nephelometric turbidity units (NTU). In this method standards of formazin are available at different NTU levels to be used for calibration. Both of these methods can be easily replicated with our Guided Wave Turbidity Analyzer.  Turbidity can be easily combined to be part of a measurement system that also measures a color value such as Saybolt color. It also can be an add-on to an existing Guided Wave ClearView db chemical measurement application.
Sample Interface for Turbidity Measurements
The Turbidity Probe and Multi-Purpose Flow Cell (MPFC) with an additional third port can be used for Haze or Turbidity (NTU) measurements along with the Turbidity Analyzer. The 20mm optical path length is appropriate, for example, when monitoring Saybolt color. For more information review product data sheets.
The Smart Turbidity Analyzer Choice
The Turbidity Analyzer system delivers accurate, real-time process measurement results. Its linearity and repeatability, as well as its low maintenance requirements make it a cost effective, smart choice to help optimize production, improve yields, ensure consistent product quality and enhance profitability.
Specifications: Turbidity (Haze) Analyzer – Photometer
OUR GLOBAL SPECTROSCOPIC SOLUTIONS DELIVER: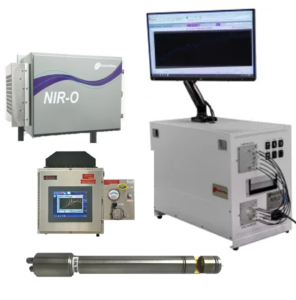 Improved reliability
Lower cost of ownership 
Improved product quality
Efficiency
Meet compliance requirements
Backed by global service and support
For a complete range of applications, system options, and service, please contact us.
SERVICE | SALES | TRAINING
Phone: +1.916.638.4944
Fax: +1.916.635.8458